The last 2 weeks I had the privilege of touring the East Coast with a pretty incredible little crew of people. I played in cities I had never played in before, as well as a few familiar gems. Watching and listening to Matthew's songs, voice, and genuine gratitude each night was a pleasure and I considered it a big ol' tutoring session on authenticity and sincerity. I opened up each evening, and hopped back on stage to sing back up for a few of Matthew's songs. Can't tell you how much I enjoyed that and I'm not even going to try to pretend that it was no big deal to me. Absolute blast.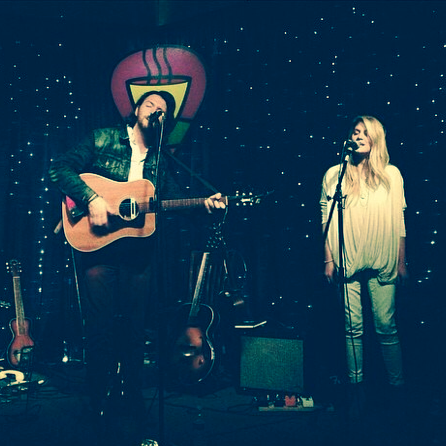 One stop of the tour was a solo show in Menomonie, WI...which was just beautiful. and freezing. but mostly just beautiful. I got to do a spontaneous photo shoot with an incredible photographer (Katie Essick) in....LAURA ENGALLS WILDER'S original house! Yep, the ACTUAL Little House On The Prairie. Some of you don't know what I'm talking about and that's ok. You didn't read Little House On The Prairie when you were little. Some of you did though. and you know. Historic.
On the very night I played NYC, my husband's band was playing Late Night with Seth Meyers - so we got to go in and be there for the live filming and cheer on my man!! It was unforgettable. Will and the Colony House boys crushed it. Not only did I get to see my main squeeze for a few hours, but I got to watch him play drums on TV! It was epic. There was much celebrating afterwards. Chicken + waffles included.
On the road, I was lucky enough to bring one of my newest and sweetest friends with me as tour manager/travel buddy/adventure seeker/merch seller/style extraordinaire. Avery definitely made this tour about 998708 times more fun than it could have been. The two of us (and my mazda) had a good amount of quality time together, as you can imagine. We may or may not have composed a very impressive rap to kill a couple driving hours. Instagram reveals just a taste of the 2 minute masterpiece.
Among our list of other esteemed accomplishments are: 1) driving and parking in NYC 2)successfully taking the subway and getting where we needed to be (eventually) 3) staying updated on Parenthood episodes during tour 4)attending/screaming loudly at Late Night with Seth Meyers
There are too many highlights to mention them all....but one I must mention was our stop in Chicago, where I got to do a live exclusive studio session at Audio Tree Studios. I even finished up a new song just in time to play it in the session, which will be available for download in the next couple of weeks.
All in all, I would do it all again! Being on the road and playing shows every night for a couple of weeks straight brought me assurance. Peace. No matter how long the drives were or how little sleep I may have gotten, I always got to sing. I absolutely love playing music and I loved singing to people I'd never met, in cities I'd never been to. Thank you for showing up. To Matthew, Jason, and Andrew - thanks for being gentlemen and for making music every night that never once got old.
{I definitely owe a sincere thanks to the MANY families who opened their homes to Avery and myself on this tour. Thank you: Haley and Steven, the Holdens, the Sencindivers, the Barnes, the Averys, the Hayes, Em, Andy and Kate, Anne and Gideon, and the Kellers. Your generosity and warmth means more than you know}